BILD provides options for custom curved stair lifts that will accommodate almost any stair way, or continuous rail need. Curved stair lifts provide safe and easy access with a custom made rail that can curve the chair seat to a safe location away from the top of the stairway and around the bottom of the stairs for safe and comfortable transfer locations.
We are a premier curved stair lift provider, offering sales, installation, and technical service and support. We offer only the highest quality and most reliable stair lifts available with features that meet your needs for safety and independence. Our offer features such as:
battery backup
safety stop sensors
remote control to call/send
an on/off key lock option
stair mounted brackets
With quick installation, stairlifts provide a low-cost investment compared to elevators, vertical wheelchair platform lifts, or inclined wheelchair platform lifts.
BILD offer personally guaranteed satisfaction with the highest quality, lowest price, and best service available. We are national experts who teach accessibility professionals about stair lifts and other accessibility solutions. With Physical and Occupational Therapists on staff, we are attentive to the details that will ensure your safety and independence. We will look at your individual needs and details such as seat height for transfers, stairlift dimensions, and the ability to safely and independently manage the stair lift.
Come and visit our Milwaukee accessibility showroom to come and test ride our straight stair lifts and learn more about curved stair lift options that are available. BILD proudly serves the Wisconsin and Illinois areas for new stairlift sales and installation, and we also provide rentals and technical service to the Milwaukee and Southeast Wisconsin area.
Curved Stair Lift Options
Harmar Helix Curved Stair Lift – A Premium Stair Lift
The USA made Harmar Helix curved stair lift offers reliable performance, a smooth ride, and a narrow profile. The Helix offers a comfortable 21″ wide seat and 350 pound weight capacity, and comes in custom color options as well. The Helix is well built, reliable, sleek looking, and offers on-board diagnostics for fast service if needed.
The Handicare Single Rail – FreeCurve Curved Stair Lift
The Handicare Freecurve curved stair lift provides a curved stair lift that utilizes just a single rail, for a more unobtrusive design. The Freecurve stair lift offers a number of unique options including: multiple seat styles and color choices, power swivel and power footplate, angled seat position for narrow stairways, a folding rail option, and an optional sit-to-stand assist stairlift seat.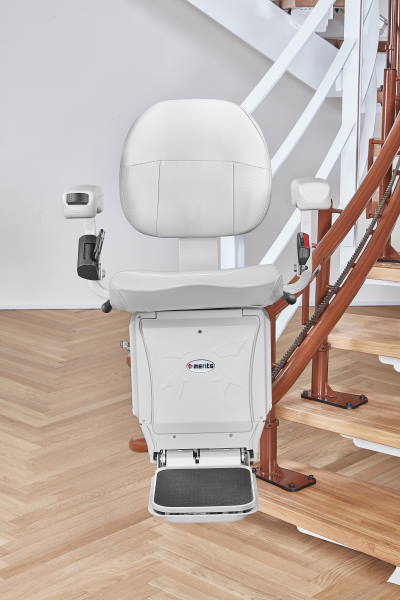 The Merits Pilot Navigator (E604) Curved Stair Lift
Merits provides an American Made and economical curved stair lift which provides a smooth ride and economical stair lift option, which can be produced more quickly than many competing brands. The Merits stair lift offers a unique – synchronous folding seat and footplate and smooth driving technology with easy start/stop operation.
Curved Stair Lift Accessories
The Folding Rail and Curved Stair Lift Options
The folding rail option for curved stair lift systems currently is offered with our Handicare Freecurve curved stair lift. This allows an open pathway at the bottom of the stairs for safe and open management of the stairway.
Additional features (dependent on manufacturer) with our curved stair lifts Include:
Key Lock Control (to shut the stair lift on or off)
Standard Remote control call/send devices
Power foot plate
Power swivel
Color selections
"Turn and go" angled seat riding to manage narrow stairways
"Active assist" assisted seat lift for easier standing transfers
Questions and Answers about Curved Stair Lifts
How are curved stair lifts attach?

Curved stair lifts will mount with floor posts which are drilled into the floor with screws. They can be attached to concrete steps, wood, and carpeted stairs (in addition to other types). The screw holes are typically easily patched or repaired after the stair lift is removed and wall mounting is not required.
What is the weight capacity of straight stair lifts?

Weight capacity of curved stair lifts vary from 250 pounds to 350 pounds depending on the stair lift model.
How quickly can a straight stair lift be installed?

A typical curved stair lift can be installed within a day.
What is the lead time required to manufacture a straight stair lift?

Curved stair lifts are custom measured and custom manufactured for the specific turns, angles and twists that are required to fit your staircase. Due to their custom nature, and the precision photo measuring that is done to ensure a precise make of the rail, production can vary from 5-8 weeks depending on the manufacturer and current volume in cue.
Where does BILD install curved stair lifts?

We are a Milwaukee based company, who sells, services and installs curved stair lifts throughout Wisconsin and Chicago/Northern Illinois.
We Serve the following communities: Milwaukee, Wauwatosa, Brookfield, New Berlin, Waukesha, Mequon, Cedarburg, West Bend, Racine, West Allis, and all of Wisconsin and Northern Illinois
Listen to one of our customers, how BILD helped provide accessibility solutions in his home.