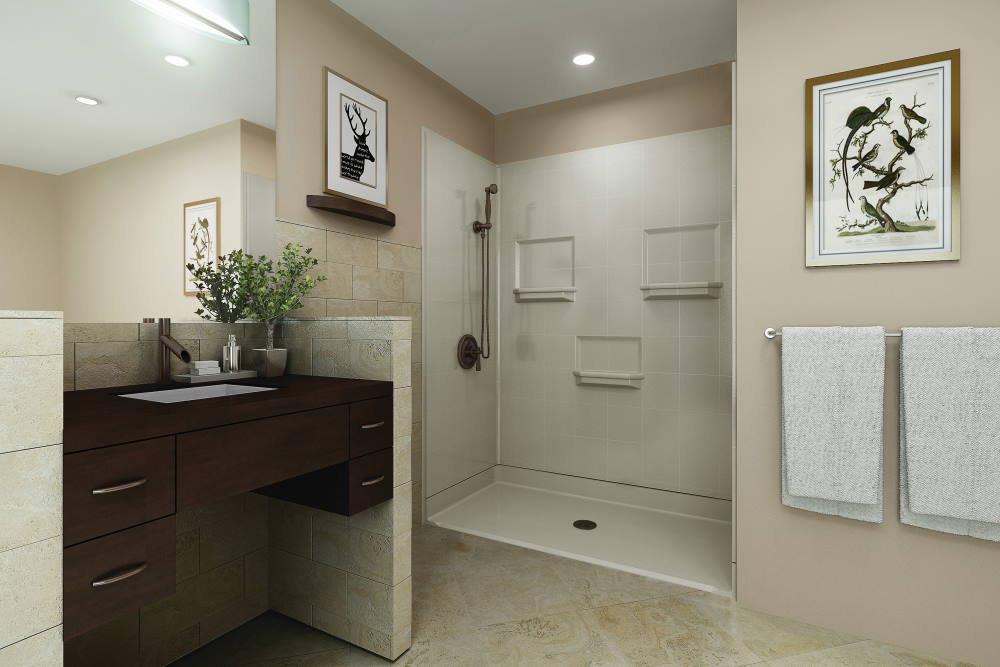 Roll-in and Walk-in shower surrounds
BILD is a certified installer of acrylic and fiberglass shower surrounds for Bestbath shower systems. These acrylic curbless roll-in fiberglass shower surrounds, and curbed walk-in shower surrounds provide a great solution for safe and accessible bathing. Benefits of these beautiful and quality acrylic shower surrounds include:
Easy to clean and maintain – making your life easier.
Quick to install – minimizing the interruption of remodeling.
Steel reinforced basepan, and plywood reinforced walls – providing safety and flexibility to securely add grab bars or accessories later.
American made with a 30 year warranty – ensuring lasting quality and durability for peace of mind.
The acrylic and fiberglass surrounds that we provide through Bestbath shower systems, are among the highest quality and most innovative shower surrounds on the market. They are uniquely engineered with hundreds of choices and customized designs, with color and tile inlay options that allow for the benefits of a low maintenance and clean acrylic shower surround, while enjoying the benefits of beautiful tile inlays and accents.
BILD is based in Milwaukee, Wisconsin, serving Southeast Wisconsin and surrounding areas. We provide the benefit of integrated interior design, and nationally recognized accessibility specialists on our team.
Acrylic walk-in surrounds
Bestbath offers fiberglass and acrylic walk-in shower surrounds with superior design and protection
Gel coat finish for superior reliability
Flooring and wall reinforced for strength and durability
plywood backing for secure grab bars and accessories
Modular systems that convert between roll-in and walk-in surround
Decorative Tile Inlays and Color Tile Accents
Enjoy beauty of tile with the ease of a low maintenance & clean acrylic surround
Real tile inlays allow for beautiful accents and decor
Custom color tiles – for individual selected tiles
Real tile look
Stone and colored surround finish options
4″, 6″, diamond tile, subway tile, and many other styles and sizes.
Flexible Water Stopper
The collapsible water dam helps contain water for acrylic roll-in shower surrounds
Contains water for safe roll-in and walk-in shower space, while keeping water within the roll-in shower
Simple peel and stick application – long lasting and durable application
Collapsible for safe and barrier free roll-over and walk-over access
Trench Drain Shower Pan
Acrylic Trench Drains provide a boarder drain built into the shower pain to contain water and reduce splash
Trench Drains provide a lower threshold for roll-in shower management
Reduced barriers also eliminate trip hazards for safe walk-in showers
Custom finishes provide beauty and style
Pete discusses how BILD modified his home with bathroom remodeling, door widenings, wheelchair lifts and a wheelchair ramp.